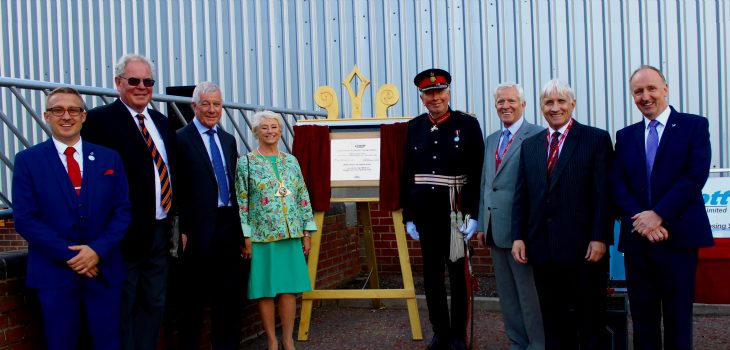 On 28th September 2018, the staff & directors of Lintott Control Systems Limited were honoured to receive a visit from the Lord Lieutenant of Norfolk, Mr Richard Jewson, J.P. & other distinguished guests. The visit formally bestowed on Lintott its 2018 Queen's Award for Enterprise (Innovation). The occasion was also marked by the official launch of the "Lintott Industry Accelerator" training academy by Mr Chris Rea OBE, Managing Director & Founder of world-class engineering & manufacturing firm, AES Engineering Limited.
During the official ceremony attended by Lintott's workforce & over 30 guests, Lintott Managing Director, David Owen expressed the Company's gratitude to the Lord Lieutenant & Mr Rea for their presentations. In particular, Mr Owen cited how he & fellow Director, Jamie Thums, had spent 20 years working in AES Engineering & had been personally mentored by Mr Rea; an experience which both prized highly. With such a commitment to people development & the pursuit of organisational excellence, it was fitting for Mr Rea to formally open the Accelerator. This is home to a suite of cutting-edge 3D-design stations & equipment (such as 3D printing). Academic partners will occupy the facility each week. Crucially, this enables students to directly experience one of the region's best-of-class workspaces, serving to enhance their learning experience. Lintott is delighted to provide the space on a 'cost-neutral' basis as well as access to its technical systems & personnel (including its eight-strong STEM-Ambassador team). Hardware has been provided by Norfolk County Council & Hethel Innovation, with Autodesk providing the design software. Process automation equipment has also been supplied by Lintott's supply chain. Academic partners include East Coast College; the College of West Anglia; City College Norwich; West Suffolk College; & the University of East Anglia.
Photographed at top (left to right) is: Jamie Thums (Lintott); Andrew Pilkington (Lintott); Jeff Crooke (Lintott); Councillor Margaret Stone (Norfolk County Council); The Lord Lieutenant of Norfolk; Councillor Barry Stone (Norfolk County Council); Chris Rea OBE (AES Engineering Limited) & David Owen (Lintott).