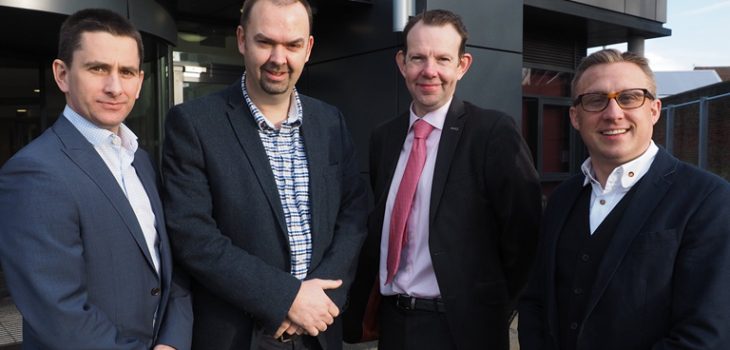 Lintott was delighted to support New Anglia's Advanced Engineering & Manufacturing "Evolution" conference held mid-February. This event built on the regions highly successful "Future of Making Things" conference which took place in November 2016.
The Evolution Conference was held at West Suffolk College & chaired by Jamie Thums (Lintott's Chief Operating Officer). Key themes were innovation, productivity, competitiveness & the journey to Industry 4.0 (the fourth Industrial Revolution).
Speakers included:
Doug Field (Chair, New Anglia LEP).
David Morgan (MSF Technologies); Henk Koopmans (Neul / Huawei); Martin Collinson; Ben Sturgess (Big Dog Labs); Paul Grenyer (Naked Element); & Will Bridgman (Warren Services).
Lampros Litos (Innovate UK), James Gillespie (DIT).
Professor Rui Chen / Thomas Childs (Loughborough University); Dr Filemeno Martina (Cranfield University); & Dr Kathryn Coventry (University of East Anglia).
Over 140 delegates attended as well as numerous exhibitors, including Suffolk & Norfolk engineering businesses and the Institute for Manufacturing (Cambridge University). With ever-increasing buy-in from industrial, academic & civic partners, the NAAME Sector Group is already planning its 2019 conference (to be held at the College of West Anglia). For more information regarding NAAME, please click here. Pictured (above) outside West Suffolk College is Gary Jefferson (Director or Engineering & Technology, West Suffolk College); Simon Coward (Chief Executive Officer, NAAME & Hethel Innovation); Doug Field (Chair of New Anglia LEP, & Joint Chief Executive Officer of The East of England Co-operative Society Ltd); & Jamie Thums (Chair of NAAME, & Chief Operating Officer, Lintott).