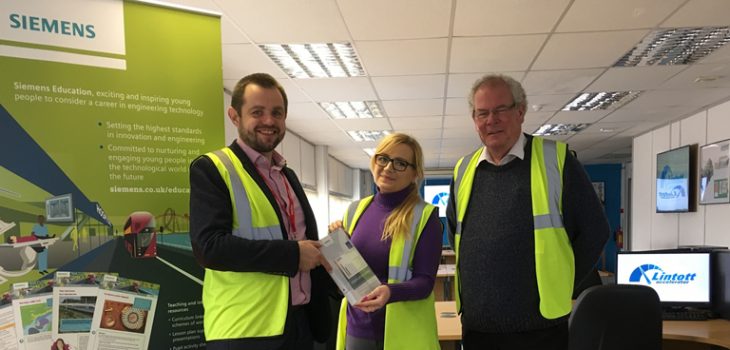 The Accelerator, which was formally opened in September 2018, includes a suite of cutting-edge 3D-design stations & equipment. Used by academic & training partners on a cost neutral basis, the facility enables students & trainees to experience a real-life & best-of-class workspace – thus enhancing the overall learning experience. Supported by Lintott's STEM Ambassadors & technical personnel, the six training kits enable partners to provide training on the latest Siemens control system platform – thank you to Siemens! Training & academic partners include but are not limited to: East Coast College; the College of West Anglia; City College Norwich; West Suffolk College; & the University of East Anglia.
Lintott is thrilled to announce that the scope of its community-based Industry Accelerator Training Academy has grown with the kind donation of six Programmable Logic Control training kits from Siemens plc.
Pictured receiving the kits from Toby Horne of Siemens (left) is Lintott Business Assurance Manager, Anna Hinson, & Lintott Director of Digital Delivery, Andrew Pilkington.